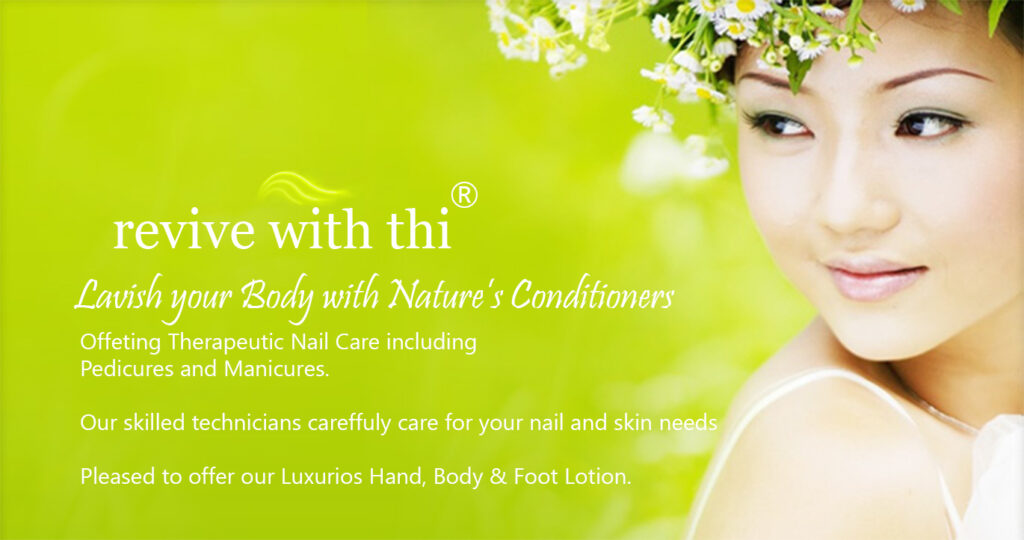 About Thi Daniels

Thi has been a skilled nail care provider for many years. Thi took her skill to new level when she began offering therapeutic nail care years ago. Precision and perfection are what Thi strives for when catering her clients.

It was also perfection that Thi was looking when she began to develop her lotion.

Luxurious Hand, Body & Foot Lotion is perfect compliment to your manicure and pedicure.
Clients Testimonials

Revive With Thi – Testimonials



My name is Shellise Berry and i've been geting pedicures from Thi Daniels for several months. When I came to Thi my feet were in very bad condition. I had the beginning of in-grown toenails & layer upon layer of built up skin from years of neglecting my feet! I was having almost constant pain in my big toes. After a few treatments, I saw a drastic improvement. Thi recommended her personal line of lotion. I had been using a popular store bought lotion but it was drying out the skn around my toes. It only took 2 weeks for me to notice the flaking had stopped when I switched to this lotion! Her lotion works wonders!

Shellise Berry, Ontario, CA

---

My name is Everton Lawrence. I have been seeing Tai for about 7 months and what a difference I have seen in my feet. My girlfriend actually touches my feet now, what a find she is, a wonderful human-being and a caring individual who will always go out of her way to make it feel good. Her lotion is also terrific. Thank you Tai, you have saved my feet.

Everton, Los Angeles, CA

---

I have been receiving services from Thi Daniel for about 1 1/2 years. I have omychomycosis (fungal infection) of my toenails. This is a very difficult condition to treat despite what you may have heard about anti-fungal medications i.e. Lamisil. The problem is often times even after treatment with oral medication the problem may return which is what happened in my case (and no I am not diabetic). Two of the toenails on my right foot were so invovled with fungus (dark and thickened, irregularly shaped) that I had resigned myself to the fact that they would never be normal again and open toed shoes would not be a possibility for me.

I am a licensed physician assistant and I have worked in family practice and Internal Medicine for 20 years – I am well aware of the treatments available for toe nail fungus, and of course I had consulted with podiatrists regarding my own case. The recommendation was to remove my toenails "with no guarantee that they would grow back without fungus." a dismal recommendation at best. Well, fortunately I did not have my nails removed – because I met Thi – who said "no, no, absolutely not, do not let the doctor remove your nails, they will never grow back in normally, give me a chance, I will fix your nails, you'll see". About the same time one of my patients came in whose nails were deformed and I asked her "what happened to your toenails." She responded, "I had fungal infection and I let the doctor remove my toenails and they never grew back the same." Well that was all it took to convince me – I had tried everything else, I might as well try Thi. Wow! What a difference, my 3rd / 5 th toenails (which had the mildest problem responded quickest – they are totally beautiful now and have remained the same for aout 1 year. Next to respond was the 4th toenail which is 99% better. Now re: 'the big guns" the 1st and 2nd toenails – I would never have expected the kind of improvement i've seen, it is amazing! I can actually wear open toe shoes without being ashamed. I was in a shoe store in Las Vegas and actually received a compliment about my feet – I was dumb-founded, for a second or two I couldn't even respond, I was too busy thinking, "is this possible, can I be getting complimented on my feet?" Yet! Thanks to Thi and her diligent, pursuit for excellence in her craft. Her techniques may not be conventional but it works and you can't argue with success. Thi knows what she is doing and I am grateful.

Thank you Thi,

Roshalda Williams, Los Angeles, CA

---

Before coming to Thi my feet were never what you would call pretty. I had ingrown toenails that drastically changed the shape of the nail. My two great toes had fungus. Thi took one look at my feet, said not to worry I will make your feet pretty again, and she has. No one touches my feet but Thi and they look great!

Mary, Los Angeles, CA

---

My experience with Thi has been wonderful!! I had a fungus in my big toe that would not go away until I started coming to Thi, now my toe is healthy. Thi is a person who has mastered her craft. I am so glad we met. Thanks again!

Debra Harper , Los Angeles, CA

---

I had a scar on my leg for about a year. It was a keloid. I saw doctors who prescribed steroids and other medicines to calm the scar down and heal it. The medicines did not work. Thi gave me her lotion and after 2 weeks of using it. The scar is visibly thinner, color is being restored and it is finally healing.

Thank you Thi! You are the best.

Sonya Waifield, , Los Angeles, CA

---

I have had challenges with toe nail growth for over 15 years. After years of wearing shoes that did not help in terms of "foot health", my toe nails became misshapen, brittle and very thick. Eventually the discomfort led to removal of one of my toe nails with recommendation from the podiatrist to remove 3 more.
Instead of acting on recommendation I came to Thi. I have seen dramatic and consistent improvement in the growth of my toe nails. They are healthy again. I cannot say enough what a difference Thi's pedicures have made. She is truly gifted at her craft.

Bernadette Lucas, Los Angeles, CA

---

I am prone to having skin colored moles. Thi noticed them on my lower leg and ankle area. During my pedicure she used the pumice stone to rub gently the moles and used her lotion "Revive with Thi". She instructed me to do the same treatment daily. Within one month the moles are almost invincible. The lotion & treatment Thi recommended is the best. Thank you Thi! You are the Best!

Maurine Anderson, Los Angeles, CA

---

Today was my first time to meet Thi. I had such a good time with her! She gave me a wonderful manicure and pedicure. She is very thoughtful in her work and was very detailed about what she was doing. I truly felt like I was getting a special treatment. She takes time to get to know who you are and even picks a color that fits best your personality and skin color.
On top of the amazing treatment she was so much fun to be with. Thi is one of those beautiful characters in world.
Thank you Thi for fantastic time, I will definitely be back.

Candice Alvarado, Los Angeles, CA

---

Thi is extremely through, a true professional. I also really like the colors she recommended. She broadened my mind and I appreciate it.

Rebecca Smith, Los Angeles, CA

---

Hello! My name is Laura. My boyfriend bought me a Groupon to come to Thi and I am so glad I came. I had really bad calluses on my feet and Thi made them magically disappear. She made my feet beautiful again and I am thankful to her. Thank you much!!!

Laura, Los Angeles, CA
Therapeutic Nail Care – Manicure and Pedicure – Luxurious Hand, Foot and Body Lotion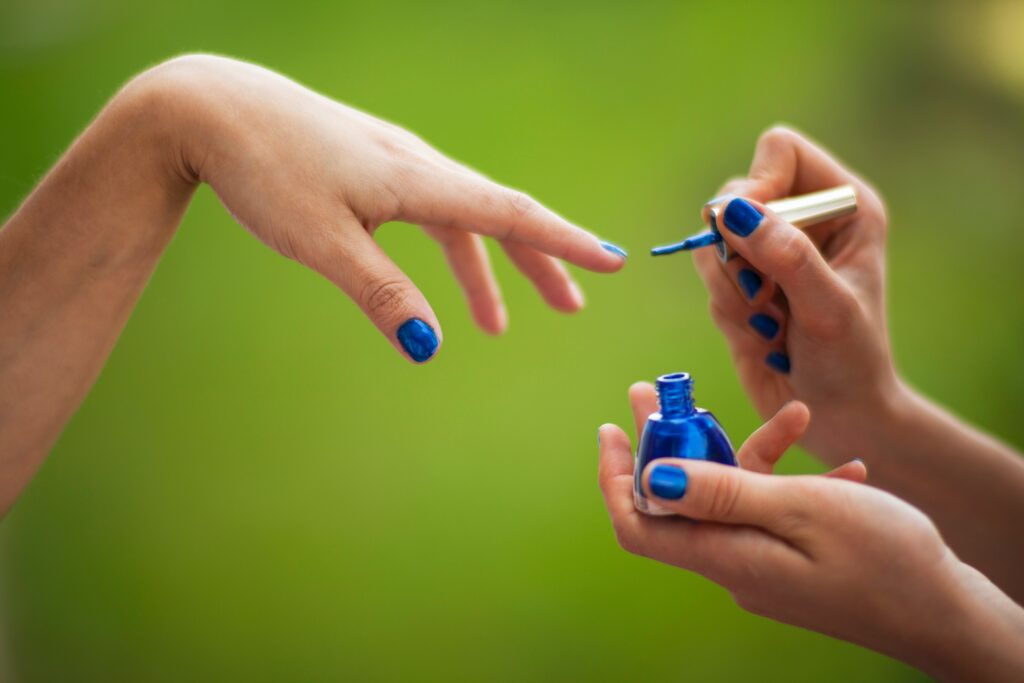 At Revive with Thi, we believe everyone has the right to beautiful and healthy hands, feet, and nails. It is with that belief we strive to provide comprehensive care for ingrown toe nails, fungus, thick and darkened nails, and many other nail care issues.
It is not difficult to care for your feet. In Thi's vast experience, the most important thing is to keep your feet dry and clean. Shoes and socks can sometimes provide pressure and exposure to moisture that can impact things like fungus. That can be countered by letting the nail bed breathe whenever possible and cleaning nails with fresh lemon once a week.
Many of our customers see a great deal of improvement by making small changes in their foot-care regimen. With Revive with Thi we will empower you with the knowledge to take your feet from fine to fabulous!